As a small business owner or entrepreneur, you're probably constantly aware of your capital. Do I need more? When do I need it? Why do I need it? Eventually, you reach a point where you're ready to take your company to a new level. At that point, you'll need more capital. So where do you find it? One option may be a small business accelerator program.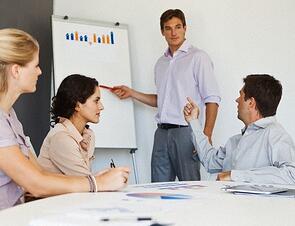 Recently, small business accelerator programs have become popular in the investment realm. David Freschman, a founder of Early Stage East, can help you identify what an Accelerator does, the benefits of working with them, and how to decide if using an Accelerator is best for your business in his two part blog series. Part one (posted below) provides a great introduction to understanding Accelerator programs.
To Accelerate or Not to Accelerate? (Part 1)
By David Freschman
This week, I attended "Demo Days" for two accelerator programs on the East Coast. I'm excited to attend as I love learning about new companies, technologies and opportunities. However, it dawned on me that every week there seems to be a "Demo Day" for a new accelerator and its graduates. Whether "physical" or "virtual", accelerators seem to be emerging everywhere. So that made me think … is the growth of entrepreneurship driving these accelerators or the accelerators driving the growth in entrepreneurship? Not being able to find definitive data, I believe that each is attributing to each other's growth.
So what is an Accelerator? Briefly, an Accelerator provides an entrepreneurial team an environment and program where their business ideas, concepts or technologies can develop in a short period (typically three months) into what may be a viable business opportunity. The companies are usually focused in the tech sectors around apps, software, internet technology where an idea can become a disruptive business. The companies are typically very capital efficient – where a small amount of capital goes a long way. An accelerator is extraordinarily selective in inviting companies into their programs. They receive hundreds of applications for a few spots perhaps up to 20 in their program. So before deciding to apply for an accelerator, here's what they offer:
Facility: Accelerators typically provide a work area for the startup for no charge. With it comes internet access, communication services and most importantly an environment where a company can collaborate with other startups in its "class". I have always said entrepreneurship can lead to "professional loneliness" as startups typically are hidden in basements, back offices or homes. An Accelerator fosters a creative, team-oriented and success driven environment.
Funding: Accelerators may provide each company with modest startup capital somewhere from $15,000 to $25,000. Not a ton of money, but enough to pay some bills as the business gels together.
Access: Accelerators provide access to some of the top investors, service providers and entrepreneurs in the region who work directly with the accelerator companies during their program. These individuals typically are committed and active as they know the companies they are working with have been vetted.
Program: Accelerators provide the companies a "program" where their ideas are reviewed, developed and critiqued by experts; education in the entrepreneurial process and tools are offered; and their investor "pitches" are honed for impact.
Launch: Accelerators provide the companies upon their "graduation" with a high-profile launch … the "Demo Day"! This is the companies coming out party where investors, high-profile execs, entrepreneurs and others are invited to see the results of three months of the intensive program with each company. It is the opportunity for the companies to present their technology and business models.
Although many believe accelerators have become formulaic in the way they approach the programs they have not in what they provide each company. Each accelerator has its own flavor, its own resources, and its own contacts.
So if you're an entrepreneur, how do you decide which to pursue and apply for? Are they the answer to launching an entrepreneur's dream? I don't believe so. Accelerators are only one tool in the box to launch a company. They are not the guarantee for success, competitive advantage or even funding.
End Article
Hopefully you have a better understanding of what a small business accelerator is and how it could potentially help your business. You can find a great amount of information on small business accelerator programs online and can learn more from these posts:
Part II : To Accelerate or Not to Accelerate?
TechStars Boston Announces 2012 Class
If you've used a small business accelerator program, or have any suggestions for startups, please share them below!
Don't forget to try our new Online Help Chat to find answers to your incorporating questions!