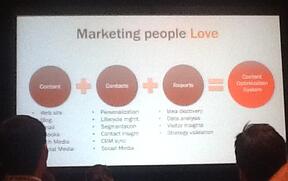 From August 27 to August 30, HubSpot hosted their annual Inbound Users Conference in Boston. For those of you unfamiliar with HubSpot, it's an online marketing management platform that allows you to monitor paid search campaigns, schedule social media, review competitor activity, oversee sight traffic, create landing pages, and much more. We've been satisfied users of HubSpot since 2010 and we were extremely excited to make it to the conference this year.
Inbound 2012 consisted of 60 breakout sessions lead by the HubSpot staff, 5 keynote speakers, and a great performance by Cyndi Lauper. We found attending to be extremely beneficial and we'd like to share a few highlights from Rand Fishkin's keynote presentation, "Choose Short Men & Tall Women."
Rand, CEO of SEOmoz, highlighted the concept that most marketers and small business owners have preconceived "required" notions when it comes to SEO. Below are 3 notable biases and his suggestions on how to look at things differently when marketing a small business online.
You should only share information on 1 topic – the topic related to your industry. You should actually be focusing on your audience's interests. While it's important to provide information relevant to your business, you also need to keep your audience interested. Avoiding narrow subjects will work best when looking for a greater response and interest in your content. Maintaining a broad focus and discussing multiple topics will earn signals that help your entire site.
You should only choose high volume keywords. While high volume keywords can be favored in paid search campaigns, long tail and chunky middle keywords also perform amazingly when trying to increase your SEO. Rand noted that, according to Google, in 2011, 18% of all searches performed were new searches. This means that they were strings of searches that had never been used before. Try researching what people search for organically and testing those keywords.
You should chase your competitor's links. If you're only researching your competitor's tactics and links, you may end up doing exactly what they're doing. This could leave you ranking right under them in search, if not lower. It's important for you to create your own unique content. Going after a broader theme will help you in the end.
Rand's entire presentation of 12 biases was not only interesting, but insightful. When it comes to SEO, he is a great resource to follow.
We hope that you find these suggestions as helpful as we do. HubSpot also manages their own blog that consistently has suggestions regarding SEO optimization and best marketing practices to help your company.
If you have any questions about our experience with HubSpot, let us know! We'd be happy to answer them.