Today we're revisiting a helpful post, co-written with insight from Incorporating Specialist Curt Sweltz, a 15+ year contributor here at American Incorporators.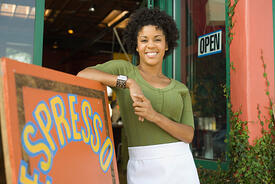 Deciding on a business name will be one of the most exciting steps of your incorporation process. Your business name is going to be one of the largest parts of your brand's identity. You can get creative – but try to have the name maintain some relevance to your service or product. You'll want the name to have a meaning to the customer. At the same time, don't be too generic. If you use something like "National Service Co.," chances are it will be less distinguishable from companies with similar names.
After you've ironed out the creative details, you'll have to worry about state level issues. To make things easier, keep these tips in mind when naming a business:
Your name may be available in one state, but not another.
Corporations and LLCs are "state-level filings." This means that if a name is available in Iowa, this does not mean it will be available in Kentucky. When a name is submitted to your chosen state of formation, the state checks it only against the incorporated and LLC names in their state records.
Create 2-3 Distinct options.
Adding "s," "the," "and," or "&" is not enough to distinguish a name and will rarely change the acceptability of a name. For example, if a company is named "Frank's Lawn Service LLC," the state will most likely reject a request to form "Frank's Lawn Service LLC."
An LLC may be able to have the same name as a Corporation.
While this is not the case in all states, California will allow an LLC to have the same name as a Corporation, even if they are not related. So, Joe Jacobs from Arkansas can form "ABC LLC" in California, and Amy Alan in Ohio can in incorporate "ABC Inc." even though the companies have no relation.
Decide on a Corporate Ending.
This can be simple. Most states will require your business to have a "corporate ending." Corporations can typically decide from Incorporated, Inc., Corporation, and Limited. LLCs can use LLC or Limited Liability Company. Keep in mind, these corporate endings do vary by state, and some states will offer more options.
Take advantage of your resources.
American Incorporators offers a free name search service in all 50 states. Checking the name before submitting your filing will save you time and money.
So while it may seem like an easy step, naming a business can become complicated. Take a look at these articles with suggestions and stories about naming your business:
8 Mistakes to Avoid When Naming Your Business.
Don't forget, our free name search is always available. If you'd like to do more research, our State Specific Information Section also offers information on state requirements. Please post any questions or share some the business name blunders you've encountered!
Editor's Note: This post appeared previously on our blog.