American Incorporators Ltd.is excited to announce that Worldpay is our newest preferred payment processing provider.
Worldpay is a leading global payment processor that allows businesses just like yours to accept all payment types including in-person, at the point-of sale, online and on-the-go via mobile devices.
Worldpay offers its clients:
Mobile from Worldpay turns your mobile device into a hand-held terminal that accepts all major credit or debit cards.
Virtual terminal allows you to take payments in person or over the phone using your existing computer or tablet. It requires no technical setup and provides real-time reporting to keep track of payments.
An integrated cash register system accepts all major payment types and provides 24/7 access to real-time transaction reporting.
Worldpay can also help you navigate the compliance requirements related to Payment Card Industry Data Security Standard (PCI DSS) guidelines and the upcoming EMV (smart card) requirements. By October 1, 2015 all merchants must have EMV terminals in order to avoid penalty. The cost of noncompliance can be steep, including damage to your brand, costly fines, and loss of credit card processing privileges. For extra protection against data breaches, Worldpay also offers end-to-end encryption services.
For a limited time Worldpay is offering merchants a cash-back incentive of up to $750 per location. To access this deal fill out this short web form found here and Worldpay will contact you to get started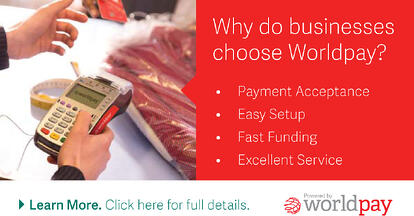 .