When forming a corporation, you'll come across the term "officers." This is a term unique to corporations and does not apply to Limited Liability Companies. Your Board of Directors is the governing body of a corporation who is elected by shareholders. The directors are then responsible for selecting the officers of the corporation and for the supervision and general control of the company.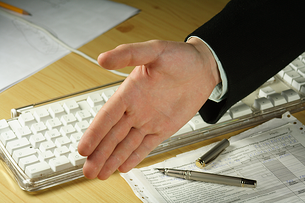 An officer can be defined as individuals appointed by the board of directors who are responsible for carrying out the board's policies and for making day-to-day decisions. The necessary positions and duties of officers are typically set forth and stated during the creation of your corporation's bylaws.
Here, we briefly describe 4 commonly valuable officer roles and their duties in the corporation.
President. The president is responsible for managing daily operations of your corporation. If you do not have a chairperson, your president will preside over all meetings of the board of directors. You may want to consider appointing a Vice President to fulfill the president's duties, should the president be unavailable. However, it is important to note that if the president is to leave a company, the vice president does not automatically assume the position of president.
Secretary. Your secretary will be responsible for maintaining your corporate records and is commonly responsible for recording minutes during your meetings. If your bylaws state that you must notify shareholders and directors of meetings, your secretary would be responsible for sending out the notification.
Treasurer. Treasurers will maintain corporate account books, including your profits, losses, assets, and other pertinent tax information. Your treasurer may or may not be involved with daily financial record keeping, depending upon how you set forth their duties in your corporate bylaws. If they do not partake in daily bookkeeping, you may decide to have the treasurer oversee the daily activity of your internal accountant.
Assistant Positions. If you have a large corporation, you may find it beneficial to create assistant secretaries and treasurers. These assistant positions can help you to proficiently manage workloads while saving time if you have multiple offices. Creating assistant positions also offers the opportunity to boost employee morale without significantly changing their specific career duties.
While these are the most common roles and duties of officers of a corporation, you may find that you do not need to fulfill all of the above mentioned positions. Keep in mind that we do recommend having a president and secretary at minimum.
If you'd like to learn more about the common characteristics of corporations, take a look at our previous blog post. As always, if you have any questions that aren't answered on our blog or in our Learning Center, one of our incorporation specialists would be happy to assist you by calling 800.421.2661.