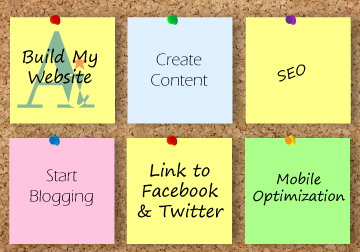 If online advertising is a part of your small business plan, you may also want to consider building a website that will delivers what your clients need. With the continuously growing availability of website creators, you are now able to create a website that will compare to even your biggest competitor. While creating your website, it is important to consistently keep your customer in mind, while making sure you deliver a clear message and serve a clear purpose. To help you get started, keep these 4 factors in mind while building your small business website.
Display Your Contact Info
One of the most important aspects of your website is displaying your contact information. Make sure that at least one form of communication is visible on every page. Your homepage should highlight these forms of communication and you may even want to consider using a chat to answer client's quick questions. Also be sure to include links to your social media on all pages.
Update Your Content
Make sure that any content you have on your website is up to date. This includes descriptions, fees, requirements, and anything pertinent to order placement. Having accurate content allows your customers to obtain a clear understanding of what to expect when using your services.
Including educational content regarding your industry is also a great way to gain visitors. An easy way to provide educational content is by creating a blog. If you don't have time to write your own content, try a content service provider like Zerys.
Adapt For Mobile Optimization
Make sure that your website can be viewed on smart phones and tablets. Many people do plenty of research and shopping via these devices. If your website is not optimized for mobile viewing, a potential customer may leave, causing the loss of a sale. Mashable has provided a great article detailing the importance of mobile optimization that you can view here.
Collect Visitor Information
One great way to collect potential lead contact information is by offering a weekly or month newsletter. This gives you the opportunity to build a relationship with potential clients without being to forward with a sales pitch. You can include new products, price changes, employee updates, or industry news. Always include the option for the clients to opt out of these emails.
Another option is having a landing page offering the chance to download a whitepaper or an eBook. Collecting their email allows you to track why they came to your website and helps you set up a sales funnel to follow up on their decision or purchase.
We hope that these 4 tips make your small business website design a little bit easier. If you need help finding resources, take a look at our Small Business Resource Center. Inside, you'll find companies that we trust to help small business and entrepreneurs succeed.