During the course of your business, you may want to make changes to your corporation or limited liability company that will be legally recognized. One common question our Incorporation Specialists encounter is, "How do you change your corporate name?" In order to formally do so, you would need to file and "amendment" with your company's state of incorporation or formation.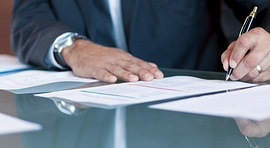 An amendment to your corporation or limited liability company is a formal filing with your state of registration that officially changes the details of your business structure. The 3 most common types of amendments that are filed are :
Name Change Amendments. You can elect to "amend" or change the name of your corporation or limited liability company for any reason. Once you've filed the amendment with the appropriate state, your new company name will be legally recognized.

Stock Change Amendments

. You may have incorporated your company with the intentions of issuing stock to raise additional capital and expanding your corporation. If you have issued all of your stock and need to increase the number of authorized shares, you can legally do so by filing a Stock Change Amendment.

Change in Directors or Members

. It is not rare for the members or directors of businesses to change throughout time. When one of your members or directors listed on the Articles of Incorporation leave the organization or a new member or director needs to be added, you can formally note these changes by filing an amendment.
As with all corporate filings, regulations regarding amendment filings will vary from state to state. After you've filed your amendment, you'll receive your Certificate of Amendment that legally recognizes the changes you've made. Keep in mind that filing an amendment does not change your Federal Tax ID (EIN) because your company is still technically the same legal entity. However, the Internal Revenue Service (IRS) does require that you notify them of any amendments you've made.
If you have any questions about amending your corporation or limited liability company, let us know! You can also find state regulations in our State Information Center.
We'd also like to announce that we've recently launched our Small Business Resource Center! Inside, you'll find trusted partners and resources that will help you maintain and expand your business. We want to continue to help you, so please let us know of any services you'd like to be added.