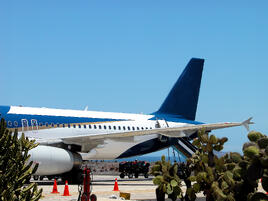 Business travel can often be a perk of your job, but the events leading up to your departure can sometimes cause stress. In order to help you have a fully enjoyable experience, we've compiled this list of business travel tips and tricks to keep you on top of your game.
Plan
Book your flight and hotel room well in advance. Take into consideration which airlines and hotels have the best frequent customer programs. Forbes rated Delta, Jetblue, and Virgin America as the top airlines for business travel in 2014.

Organize your transportation. If you're planning on using a rental car, confirm your reservation. If you're going to rely on public transportation or taxis, take note of their schedules. Taxi Magic is available in 60 US cities. It helps you with fare estimates, pick up scheduling, and taxi tracking.

Create an itinerary so you'll know when and where your meetings are.

Make sure you have proper travel documents, including your ID and passport. To be safe, make a copy to keep with you.
Prepare
Review the area where you'll be staying. Take note of any restaurants, convenience stores, coffee shops, or attractions nearby. A great app to help you with this is Yelp.

Check your destination's weather to make sure you're packing the right items.

If you're going out of the country, you may want consider checking your cell phone costs with your provider.

Download the WiFi Finder app to help you locate wireless spots when you've reached your destination
Pack
Invest in a lightweight, easy-to-move carry on. Checking bags will cost you time and on some airlines, money.

Plan your wardrobe. Taking neutral colors that work well together will give you more outfit options without over packing. Make sure you take a pair of shoes that will be comfortable for any leisure time you may have.

Consider placement. If you keep things you'll want during the flight in outside compartments on your bag, it will be easier to reach. Purchasing a cord organizer can save you time if you're traveling with many devices.

Take backups. Having a backup cell phone charger can come in handy if you misplace your own.

If you must check a bag, make sure you take a carryon with essential items, including a change of clothes.
We hope that these travel tips help you breeze through your next business trip. If you have any tips that help you when traveling for work, please share them below!