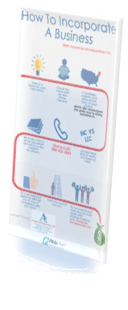 Incorporating your business can give you and the other owners of your business a number of benefits. For the benefits of incorporating you can look HERE. Incorporating your business can be an easy task with your friends at American Incorporators Ltd. to help you. It takes completing these simple tasks and we'll be there to help you along the way
1) To be a legal entity you must register your business name with the Secretary of State. If you have already thought of your name check it HERE to make sure it is available in your state. If you do not already have a name, that's okay think of a creative name for your business that will be attractive for customers.
2) Decide what kind of entity you would like to incorporate. LLC, S Corp, C Corp and what state you would like to incorporate in.
3) Call Us- 800-421-2661
4) Depending on your states regulations we could get your documentation and your business up and running in just a few days.
If you want to download our "How To Incorporate a Business With American Incorporators Ltd" Guide click HERE