Incorporating is an important step to providing you and your business with more security. Corporations historically started as a means for people to gather their finances for large business endeavors, while benefitting from protection from liability. Without such protection measures, people were less likely to invest in projects, leading to the continuation of corporations.
This limited liability feature is one of the most prominent features of corporations and limited liability companies. You can protect your personal assets by incorporating or forming a company. When you do so, you are creating a legal entity that is separate from yourself. This means that your personal assets and your business assets will be separate. In the event of a lawsuit or if your business should fail, your personal assets cannot be touched.
As an owner, you are separate from the legal business entity, but you still must be sure to follow all state rules and regulations regarding your corporation or limited liability company.
A few steps to insure that you protect your assets include…
Creating proper articles of incorporation and bylaws, along with any other set state requirements.
Acting in accordance to the company's articles and bylaws.
Vigilant recordkeeping habits, including attention to detail.
Maintenance of annual taxes.
Aside from these basic steps, there are further ways to maximize your liability protection. Here, we've noted 3 Key Do's and Don'ts that will help you protect your assets.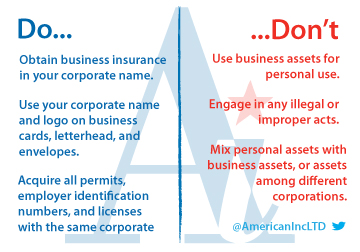 Once you incorporate your business, you are on the road to protecting your personal assets. You should keep in mind that there are still legal obligations for you to follow in order to achieve maximum liability protection. If you'd like to learn more about incorporation and its benefits, check out our Learning Center. You can also learn more about state specific requirements by visiting our detailed State Database.
Our "How Incorporating Protects Your Personal Assets" info sheet summarizes asset protection strategy and other benefits of incorporating. It's available for free download by clicking the button below!