There are only 4 days left in 2012 and this means that it's time to start thinking about the sometimes dreaded New Year's Resolution. Chances are you've been reviewing your past year - deciding what worked, what didn't, and what to do in 2013. Since this can be a hectic time for many businesses, we've created a checklist of 4 Key New Year's Resolutions For Small Business Owners.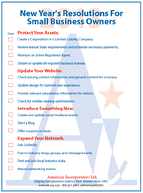 Protect Your Assets.
Update Your Website.
Do a Review. Check pricing, contact information, and general content for accuracy. If you have changed your phone number or email address, it's crucial to provide this updated information. Your website is the main way your clients will contact you and you wouldn't want your clients being lead to a dead end. If you provide time sensitive information, make sure you have someone consistently updating the content.

Update design for a better user experience. Outdated web design can be a turn off for many potential clients. Make sure that your site is easily navigable and provides a friendly, easy experience for both current and potential clients.

Include links to your social media pages. Make sure that you're linking to your Facebook, Twitter, LinkedIn, and other social media accounts. These are great ways to expand your online presence and attract new clients. You'll find the guidelines for adding buttons on the social media form's website. For example, take a look at Twitter.

Provide relevant educational information. This can be displayed on your blog or frequently asked question section. Any educational information is a great takeaway for your clients and it is something that they're inclined to pass on to other people. This is a great way to start having the web link back to your site.

Check for mobile viewing optimization. You'll find that many people are probably viewing your website from their cell phone, or other mobile viewing device. Make sure your site is still easily navigated, even in the mobile view.
Introduce Something New.
Create Social Media accounts. Create a Facebook page, Twitter Account, and LinkedIn page for your business to get started. These are great outlets to find new customers, announce promotions, and stay in touch with your audience. You'll find many other social media outlets out there, including Pinterest, which is great for retail based businesses.

Start a Blog. Starting a blog can help your organic search engine optimization. This will help drive traffic to your website, and it is also a great way to provide your clients with resourceful, educational information.

Offer Coupons or Deals. This can be done through new platforms such as QR Codes linking to social media, or can be done in more traditional format, such as postal mail. Either way, a coupon or deal is a great way to ramp up visits to your website and increase revenue.
Expand Your Network.
Join LinkedIn. LinkedIn is a social network for business professionals. This is a great way for you to connect with industry professionals and spread the word about your business and services. LinkedIn recently introduced company pages, where you can list your products or services and share your company background. You can also help answer questions in group discussion boards and find local networking events in your area.

Attend networking events. Your social network should extend beyond your social media websites. Take time to find local events where you can share your knowledge and make connections.
We hope that these resolutions can alleviate some stress from your new year! If you have any questions or needs to check that you've completed your annual requirements, please contact our office.
You can download the Checklist for free below to help keep you on track in 2013!